From Heaven:
A 28-day Advent Devotional with excerpts from the works of A.W. Tozer, is one of the strangest devotionals I have ever encountered (though I haven't looked at or read many).
Strange in a good way though.
When I think of devotionals, I think of generally light portions of readings per day, with a verse of Scripture that is contemplated at a high level and that is then meant to be applied to oneself in an extremely personal way.
Tozer's devotional, like any devotional, has a small reading for any given day, but the content of the reading is anything but small and goes much further than provoking one to mere introspection, it provokes one to contemplate the true awesomeness of our God and His love and grace.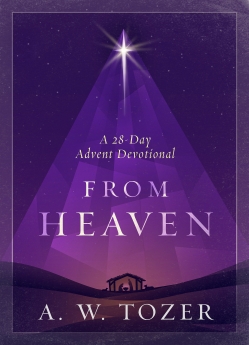 There are things in this devotional that I was delightfully surprised to see in a Christmas devotional (or any devotional for that matter), like, "
Put the emphasis where the Bible puts it, on the Christ at the right hand of God, not on the babe in the manger."
And,
"Among the harmful abuses of the Christmas season in America is the substitution of Santa Clause for Christ as the chief object of popular interest, especially among the children. The morality of Mother Goose stories and fairy tales has been questioned by serious -minded Christian parents, but my opinion is that these are relatively harmless because they are told as fiction and the child is fully aware that they are imaginary. With Santa Claus it is not so. The child is taught falsehood as sober truth and is thus grossly deceived during the most sensitive and formative period of his life."
This devotional will get you into the true Christmas spirit (and I'm not saying this sarcastically). You will contemplate with awe the fact that God sent Christ to come at all,
"What would be the logical mission upon which God would send His Son to the world? We know what our nature is and we know that God knows all about us and He is sending His Son to face us…..Our own hearts-sin and darkness and deception and moral disease- tell us what His mission should be. The sin we cannot deny tells us that He might have come to judge the world!"
You will dwell upon the wonder of the work of God in salvation in sending His own Son to save us, and that this Son is God Himself in the flesh, come to bring us His righteousness and come not just to dwell among His people for a short time, but Who dwells IN His people. You will also contemplate Christ's second coming and be shocked that you do not long for it as you ought,
"Another reason for the absence of real yearning for Christ's return is that Christians are so comfortable in this world that they have little desire to leave it……….We want to reserve the hope of heaven as a kind of insurance against the day of death, but as long as, we are healthy and comfortable, why change a familiar good for something about which we actually know very little?... Again, in these times religion has become jolly good fun right here in this present world, and what's the hurry about heaven anyway? Christianity, contrary to what some had thought is another and higher form of entertainment. Christ has done all the suffering. He has shed all the tears and carried all the crosses; we have but to enjoy the benefits of His heartbreak in the form of religious pleasures modeled after the world but carried on in the name of Jesus. So say the same people who claim to believe in Christ's second coming."
All in all, though there were a few statements I did not agree with (like the parts where Tozer describes God's love for us as COMPELLING Him to do certain things rather than God being in complete control of His own love), but for the most part I really liked this devotional, and highly recommend it. As I mentioned earlier, it will get you into the true Christmas spirit!
Many thanks to
MoodyPublishers
for sending me a free review copy of this book (My review did not have to be favorable)