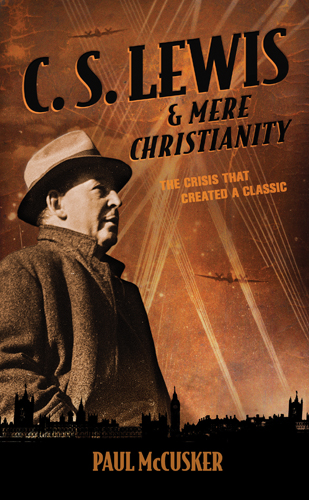 World War II England, and in particular, WWII London, was an intimidating place to be; itt seems that around 40,000 civilians in total were killed in England during the war.

During this time, when many bombs were being dropped by Nazi Germany on the civilian population, the director and the assistant director of the BBC's Religious Broadcasting department, James Welch and Eric Fenn, were searching for someone to draw people to the religious programs they were broadcasting on the BBC's radio station which were apparently being passed by in deference to stations/programs that were entertaining.

C. S. Lewis was the man they ended up recruiting.
C. S. Lewis and Mere Christianity by Paul McCusker is the story of how C. S. Lewis' book, Mere Christianity came to be.

It took a little bit for me to get used to the way the book was put together.

The story is told, not by mere sequence of events, but also by 'flashbacks' to C. S. Lewis' history, and constantly switches from section to section from what C. S. Lewis is doing, to what is going on at the BBC, and also explanations of what world events are happening in regards to Hitler, Churchill and the war in general.

I got used to it quite quickly, and it does keep the interest pretty well, though sometimes you want the part you were just reading to continue going instead of switching to a different topic.
There are also what I'll call 'information boxes', some of them very large/long, that pop up in the middle of the part you were just reading, some give biographical summaries of people who were just mentioned in the narrative, others explain different aspects of the war, and there were still other topics as well.

It was a bit odd and I couldn't quite figure out if it was annoying or not.

At least I know I didn't absolutely dislike them, it was just unusual to me.
This account of the making of "Mere Christianity" (of which I have only read snippets) is quite interesting.

I didn't fully realize that it originated from some of the radio broadcasts Lewis did during the war on various topics related to Christianity.

The book gives quite a bit of information of what was going on in his life at the time.

As he was working on the scripts for the radio broadcasts, he was taking care of, and dealing with, his 'adopted' mother(who apparently was quite bossy), helping and encouraging his brother who had problems with alcohol, teaching at Oxford, doing his duties as a home guard, writing books, as well as other tasks.
I'm always a bit wary of Lewis because of his rather ecumenical views, and my perspective is no different having read this book.

As an example of where I am concerned about his views, it seems that during the war Lewis felt as though he should go to a 'confessor', and convinced himself of it by thinking of a quote, apparently speaking of Christian beliefs,

"Let us hold on to that which has been believed everywhere, always, by everyone

", and went to an Anglican confessor, apparently continuing the practice throughout his life.

I find his reasoning very flawed and dangerous, especially considering Christ's command:

"Enter ye in by the narrow gate: for wide is the gate, and broad is the way, that leadeth to destruction, and many are they that enter in thereby. For narrow is the gate, and straitened the way, that leadeth unto life, and few are they that find it. "(Mat 7:13-14 ASV)
But I did find the book a very interesting read, and a very intriguing look at WWII.
Thanks to Tyndale House Publishers for sending me a review copy of this book!(My review did not have to be favorable)
This book may be purchased at
Amazon